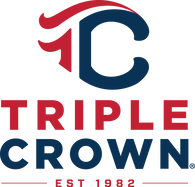 St. Pat's at the Park 2024 Baseball & Softball Tournament
Tournament Info
NOTE: Registration does not secure your spot in this event. Payment secures your spot in this event.
March 16-17, 2024
Saturday & Sunday
This is NOT a Stay to Play event.
All-Turf Fields
Baseball: 8U,9U,10U,11U,12U,13U,14U
Softball: 14U,16U,18U
Baseball: 3GG & Softball: 4GG
Sanctioning: Triple Crown (no sanctioning required)
Tournament Fee
Entry Fee: Softball – $525, Baseball – $525
Gate Fee: TBA
Payment Policy: Payment secures your spot in this event. The event registration fee must be paid to confirm your team's spot in the tournament. Teams that choose to pay later may be moved to the waitlist if other teams register and pay before them, regardless of when they register.
Online Payment Fee: When paying with a credit card or debit card, there will be an online processing fee. This fee is not refundable and not able to be applied as a credit. The processing fee is a convenience fee paid to the credit card processor. You can mail a check to avoid this fee. Please call or email info@ballparksnational.com when you mail your check with the check number and we can confirm your entry. Please do not text.
Click the link below to view the latest list of teams for this event:
Baseball: #
Softball: #
DIRECTIONS TO BALLPARKS NATIONAL – Kissick Way is a turn directly off Highway 54.
LOCATED ON HIGHWAY 54, JUST 10 MINUTES WEST OF THE CAMDENTON COURTHOUSE SQUARE
Ballparks National
480 Kissick Way
Macks Creek, MO 65786
From Lake Ozark:
Follow US-54 to the Ballparks National entrance (480 Kissick Way) – 25.7 mi
From St. Louis:
Follow I-64 W/US-40 W and I-70 W to US-54 W in Kingdom City. Take exit 148 from I-70 W/US-40 W – 1 hr 31 min (102 mi)
Follow US-54 W to the Ballparks National entrance – 1 hr 35 min (98.0 mi)
From Kansas City:
Get on I-70 E/US-71 S
Take I-49, MO-7 S and MO-13 S to State Hwy T in Doyal Township – 1 hr 37 min (105 mi)
Turn left onto State Hwy T – 15 min (12.0 mi)
Follow US-54 E to the Ballparks National entrance -36 min (33.6 mi)
From Springfield:
Merge onto US-65 N
Turn right onto MO-73 – 32 min (33.6 mi)
Turn right onto US-54 E -21 min (20.1 mi)
Turn left at the Ballparks National entrance – 6 min (6.4 mi)
FACILITY POLICIES – Please respect these policies in the entire facility and our parking lot
Rubber cleats or turf shoes only
No metal spikes
No outside food, coolers, and drinks (except for player drinks)
No outside adult beverages allowed
No outside food or drinks includes in the parking lot; no "tailgating" and no parking area buffets
No smoking, no vaping, no tobacco
No pets (except service animals)
No seeds or gum
Set an example of sportsmanship
SERVICE DOGS
A "service" animal is a dog that is individually trained to do work or perform certain tasks for a person with a disability. According to law, we may ask if the dog is required because of a disability and what work or task the dog has been trained to perform.
EXPECT US TO ASK.
The Americans with Disabilities Act cites that emotional support dogs or animals do not have the training to do specific tasks in assisting a person with a disability or impairment, unlike service dogs. Hence, the pets may not be allowed to accompany their owner in public places –restaurants, stores, hotels for example.
IN SHORT, PLEASE DO NOT ABUSE A LAW IN PLACE TO HELP PEOPLE WITH DISABILITIES.
This is NOT a Stay to Play event.
While there are a lot of lodging options in the lake area, we recommend using one of our partners. Click here to view our recommended lodging partners.